"Put, That coffee, Down!"
Walking through the finance section of our office back in my private equity days, this quote would be sternly yelled at each other, followed by the line, "Coffee is for Closers!"
The quote was from Alec Baldwin's character in Glengarry Glen Ross, and I guess it was the swaggering bravado of it that enticed our band of finance geeks and would-be dealmakers to scream it at each other regularly. I was always amused that a bunch of desk-bound, expensively dressed spreadsheet jockeys like ourselves identified so closely with the explosive over-confidence of a Hollywood salesman. Most of our team had never sold as much as a pair of shoes on e-bay before.
My own sales experience had been a relatively modest $6M mostly in government contracts at that point, but I had spent enough time in the sales world to understand how completely foreign the entire culture and mindset of a professional salesperson is from the standard office dweller.
If you are thinking about adding a professional Sales Team to your company, or if you'd just enjoy yelling gratuitous profanity, you really owe it to yourself to watch Glengarry Glen Ross at least once. The glimpse into the chaos, confidence and energy of sales is stylized, and yet not too far from the truth. Think about the culture of your company sitting next to the culture of theirs when you watch. It will probably be hard to imagine.
When to hire an "Alec Baldwin"
Hiring an "Alec Baldwin" to sell your company's product can be extremely rewarding, eventually creating growth and profit far beyond your current trajectory, but the economics involved are huge, and not intuitively obvious. I'll show you the quick calculations to make sure hiring sales staff is a good decision.
Here's the ideal position to be in BEFORE you hire your first salesperson.
You are already earning consistent revenue from your product or service
You are already at break-even each month, or at least on a trajectory to break-even in the next few months
You can service and support many more customers easily, without dramatically expanding your infrastructure. Most Web-Delivered businesses are excellent in this regard.
You have access to a pile of cash to invest in sales. This could be a new investor, a loan, or just surplus cash in the business. You won't see this cash again for a while.
To a business owner, the basic expectation of a Sales Team is that you will sell a bunch more products at a lower profit margin (lower because the salesperson is paid a slice of each sale too). At first blush, this seems like an immediate increase in your business checking account. This is flawed, however, because it will probably take many months for the volume of sales to grow enough to contribute to profit. The simple reality is that the first 3-6 months of a salespersons career will typically COST you money, not produce it.
It's tempting to think that a salesperson will get paid only when they sell, ie. 100% commission based. But in practice only two types of people are willing to work on 100% commission, the desperate or the insanely talented, and you probably don't want either kind. Eventually the insanely talented salesperson will require too big of a commission to keep them from jumping ship to a more attractive company, and hiring desperate people is usually chaotic and unmanageable with a low chance of success for everyone.
For most businesses, the most attractive route will be to initially hire moderately experienced salespeople on a base salary with a performance based bonus (ie, the % of bonus paid scales with the % of some sales target reached). It's common for the bonus to be roughly equal to the base salary. This compensation scheme usually produces a staff with a good chance of success for both you and for them.
It's the combination of the base salary and the need for semi-realistic sales targets that creates the initial cash drain on the business. More on that next.
Down and dirty calculations to tell you when it's feasible to hire
This is what the typical sales hire will do for your business in terms of Revenue and Expenses: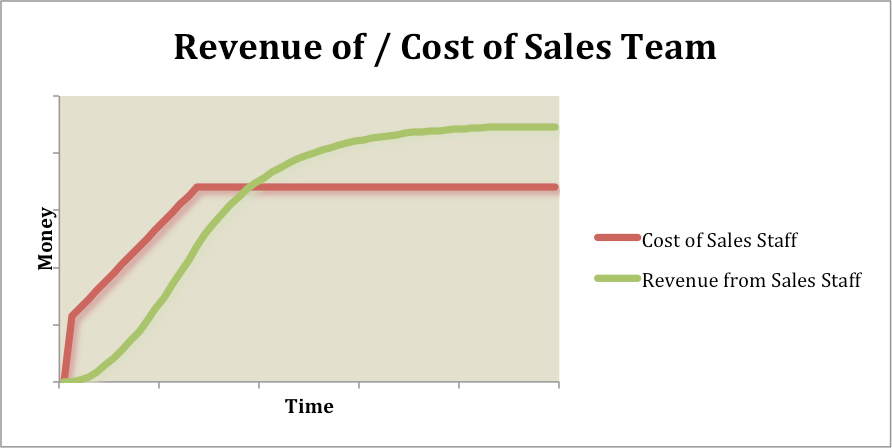 It is very common for a salesperson to take 3-6 months or more building their sales volume up to it's long-term sustainable level. In the meantime, you'll be paying their full base salary and employers expenses. Eventually the sales they make every month will catch up and exceed their costs, but you'll have burned through cash that whole time, and it will still be several more months before you've recovered what you've spent and start making a genuine "profit" on your salesperson.
Visually, that looks like this:
The red area is money you are burning while they get up to speed. The blue area is paying back your original "investment". The green area is the actual "profit" your business earns on the salespersons' labor. Plan on it taking a while for a sales hire to pay off.
For a super quick rule of thumb to estimate exactly how much cash you'll burn through (and therefore need to have set aside before you hire) grab the calculator on your phone and follow these steps:
Write down your Base Salary ($ / year). Call this "Base"
Write down your Performance Bonus ($ / year). Call this "Bonus"
Write down how many months it takes to get to full sales productivity. Six months is common. Call this "Ramp"
Plug it into this forumla:

This formula uses the Intermediate Value Theorem and a couple of simplifying assumptions to make it quick and easy to calculate. It should give you a rough estimate of how much capital you'll need to set aside (or raise from an investor) before you make that first sales hire.
For a more nuanced and detailed approach, I've modeled out a single sales hire in this Google Docs spreadsheet, which you can access for free here. Having these numbers in hand can be a huge help in raising money to hire with, if you're getting an outside investor to finance the new hire(s).
Before your first Hire
Especially if you have never worked in sales before, which is quite common for the leader of many tech companies, I highly recommend taking 1-3 months where YOU become the salesperson. Spend at least half your day on sales, more if you can afford the time. Make direct calls, go pitch at a trade show or convention, run an ad with your phone number, get a meeting with a potential customer and go pitch your business, convince a stranger at Starbucks they need your product. You can go crazy with it if you just tell yourself "this won't be my job forever".
Worst case, you won't close a single deal and you'll hate every minute of it. You probably will close at least a couple deals, and you'll feel pretty awesome about yourself when you do.
The real purpose of this experiment though, will be to give you instincts that will dramatically increase your chance of success hiring a Sales Team. After even one month in those shoes, you'll do much better at each of these:
Screening and selecting a truly good candidate for your first sales hire
Designing a compensation structure and setting performance targets that work for your business AND the new salesperson
Understanding the markets where your potential new customers are
Managing expectations and results after your first salesperson joins the team
Understanding the changes in your company culture as you add more sales staff
This knowledge will be invaluable and will seriously increase your odds of success, even if the experiment is uncomfortable.
After your first Hire
The "ramp up" period, where your new salesperson goes from zero sales per month to some stable number of sales per month, is critical for both your business and the new hire. Both of you will have high hopes for the arrangement, and you'll both be a bit nervous and on edge until it seems like things will work.
You're feeling the perfectly normal concern any investor feels when investing money, namely the thought "Am I ever going to see this money again?" Just be aware that you'll be unnaturally on edge until the sales start growing. Don't let your rational concerns lead to irrational behavior or attitudes. Simply being aware of this can help you to project the culture and dynamic of success until it becomes a self-fulfilling prophecy, and you can rationally dismiss your fears.
Your new salesperson probably looks extremely enthusiastic and up-beat, but underneath they have the perfectly rational concern of "Will this job work out? Did I just hitch a ride on a gold mine, or will I be looking for another company soon"?
The more you can make the "gold mine" idea seem plausible, the more likely the salesperson will be to rise to the occasion, and the happier you'll both be. Confidence and closed deals can enter a virtuous cycle where they each feed off each other and grow and grow. Your number one goal during the ramp up period should be to help your new hire reach 100% of their performance goals as quickly as possible.
Constant micro-managing of the sales process probably won't help, but showing a genuine interest in their success probably will. Here's a few actionable ideas:
Celebrate every new closed deal with them. You don't have to go over the top, but even something as small as an enthusiastic "YES!" and a fist pump will match the emotions of success that they are feeling, and go a long way towards feeling like you're on the same team. Empathy can be transformative for both of you.
Generate a couple leads on your own and give them to your salesperson. This can be a grand gesture that says "I want you to succeed too". Avoid asking about those leads later, since it places un-due emphasis on those particular deals, and could make them seem more like a test than a gift.
Ask for their advice and input. Get their opinion on your marketing materials or on-line ads, take them on a one-on-one lunch where you discuss where the broader market is going. Anything that communicates respect for their opinions and knowledge will build their confidence and self-image within your company. Both of which are very helpful to most salespeople.
Involve them in forming a vision for the "Sales Team" of your company. You don't have to be grooming them to become the VP of Sales, but feeling like they have input and involvement with the direction and culture of their job can be hugely motivating.
Surprise them with a one-time "bonus" after an exceptionally large or profitable sale. Surprise is key, and an envelope with actual cash is much more effective than a check. Say something simple like "Nice job on that XYZ deal. Here's a little thank you".
Once they've reached 75% of their performance target or so, the relationship will likely stabilize and you can start working on what the long term dynamic will be like. Success there is for another article.
When you're ready to hire another salesperson, make sure you involve your current salesperson in the process. If you don't, fear of losing some of their "territory" may poison the next hire, and the last one, erasing all your work and investment in the process.
Closing Thoughts
Hiring and developing a successful sales team is usually the turning point between a small business driven by your personality and a viable, self-sustaining company. The upfront costs are large, and the economics and culture of your company will change irreversibly. But if you do it right you will eventually have more profit and more free time, and your employees will have more secure and worthwhile jobs.
Crunch the numbers first, and if it looks good, take the plunge. Your company will never be the same once you do. With any luck, you'll soon have a team of closers that would make Alec Baldwin proud.
<If you enjoyed this article, feel free to join my newsletter here>